Community Investments
Thank you for your interest in UWGC's 2022-2023 Community Investments grant cycle. Applications are now closed, and we are no longer accepting any changes or new applicants.
Applicants who submitted applications by the February 25th deadline can login to the application portal here. Please review the information below on our process and email our team at impact@uwchatt.org if you have any questions. 
Applicant & Volunteer Review Portal
Our Grant Process
The funding process at United Way of Greater Chattanooga is at the end of a 3-year transition phase developed to ensure that the investments drive impact, collaboration, and inclusion here in the Chattanooga region. We invite you and your team to learn more about next year's funding cycle that will open in early 2022 through the recorded informational sessions and the FAQ section below.
United Way of Greater Chattanooga's grant funding supports nonprofits located in Hamilton, Sequatchie, and Marion Counties in Tennessee and Walker, Dade and Catoosa Counties in Georgia. We provide annual grants through a competitive proposal process to impactful organizations that address our community's interconnected challenges in the three Focus Areas of Education, Stability, and Health & Wellbeing. All grant applications will be assessed through a community-led review process, in which dedicated volunteers evaluate and identify the local collaborations and approaches that can create a lasting transformation. If this sounds like your work, we encourage you to learn more below and stay tuned for more information.   
To view our Partnership Promises, click here.
The purpose of the Application Guidelines is to clearly communicate each aspect of the Community Investment Application process and, ultimately, to encourage organizations doing outstanding work in the areas of Education, Stability, and Health & Well-being to apply for funding.  
We have an open, competitive application process that identifies which organizations will have the greatest impact. UWGC is able to fund exceptional programs through the implementation of the Community Investment process, a competitive and transparent allocation process that is open to all nonprofit organizations that meet eligibility criteria. 
* LOIs are due no later than February 4, 2022, in order to give ample time for applicants to access and complete the full application if approved. After the LOI is submitted, each LOI will be evaluated for completion by UWGC staff and will be approved or denied on a rolling basis. Only applicants who have finished their LOIs by February 4th will be able to submit access and submit the full application.
Steps to Success Framework
United Way of Greater Chattanooga is looking to fund programs that align with our three Focus Areas of Education, Stability, and Health & Well-Being. The problems facing the Greater Chattanooga region are immense, and they need comprehensive solutions. United Way is looking for collaborative solutions that can make an impact today and build in the years to come. 
Our Community Investment Funds are driven by our Steps to Success model, which illustrates 9 key milestones on the path to success. There is no one solution to solve the challenges every individual and household in our community faces. Our framework, therefore, highlights the greatest ways organizations can comprehensively provide the best next steps for a person's whole life: from birth to childhood to adulthood and beyond.
Click the button below to learn more!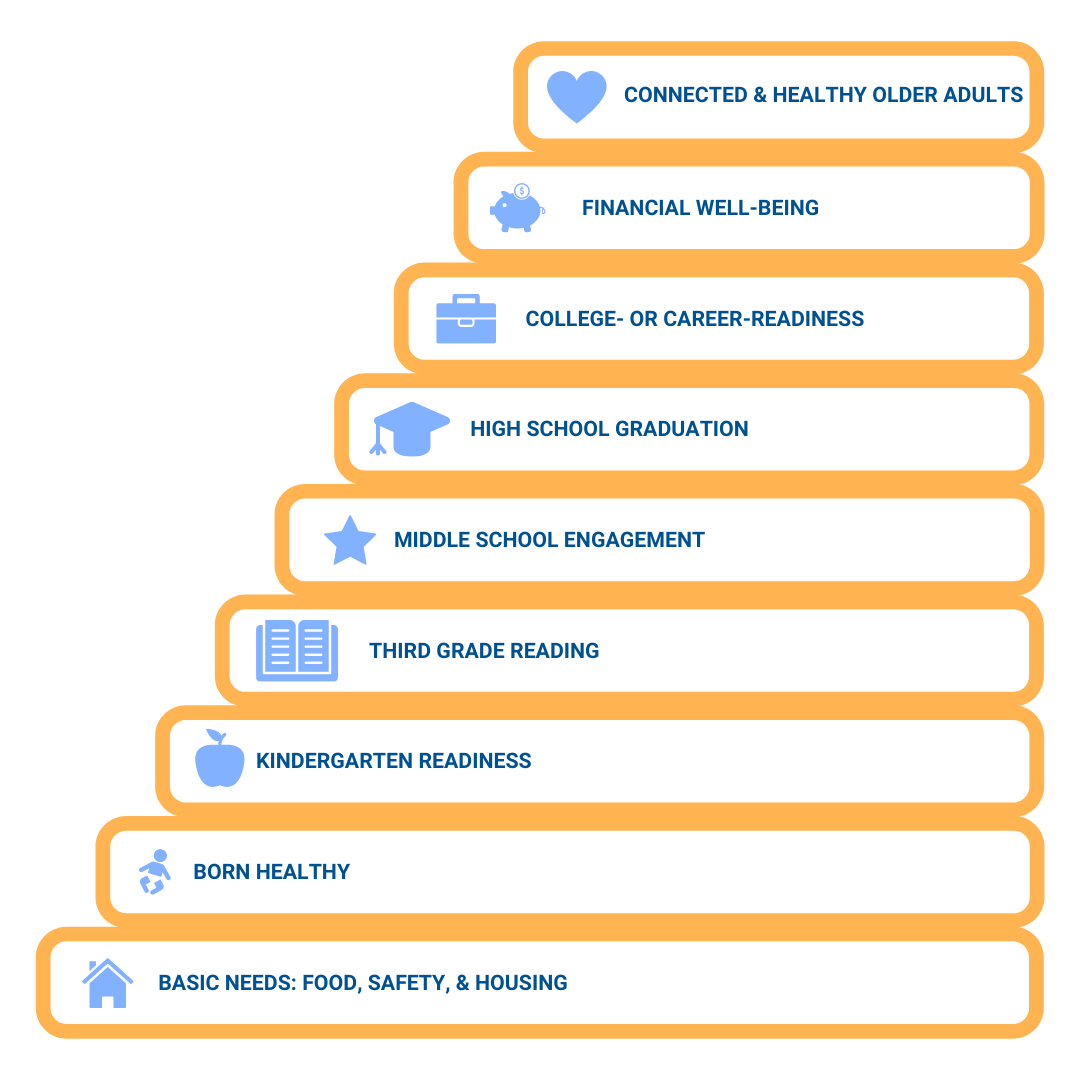 *This model is from the United Way of Greater Richmond & Petersburg*
Community Investment 2022-2023 FAQ
What are the available funds to apply for within UWGC's Community Investment Funds?
1. Impact Fund: Investing in local nonprofits through competitive grants for collaborative and transformational work to find solutions to systemic issues in our community. 
2. Catalyst Fund: Accelerating impact by investing in nonprofit capacity and innovative solutions. 
When will the Requests for Proposals for Community Investment Grants be released?
United Way of Greater Chattanooga will release the 2022-2023 Community Investment RFP & application on January 4, 2022. 
What are the steps for applying?
There are three application steps:
1. Eligibility Survey 
2. Letter of Intent (LOI) 
3. Full Application – Impact and/or Catalyst Funds 
Is my organization eligible to apply for grant funding?
At the most basic level, eligible agencies must be able to provide:
The applicant must meet the IRS standards for nonprofit status 501(c)(3), faith-based organization, or governmental entity.
The organization must be chartered prior to January 1, 2019.
The program must provide services in 1 or more of the 6-county service regions: Hamilton, Marion, Sequatchie Counties in Tennessee or Walker, Dade, Catoosa Counties in Georgia.
Additional requirements will be described in the released Application Guidelines on our website.
Does my organization align with UWGC's Community Investment Focus Areas?
UWGC prioritizes investing in data-driven efforts that deliver the highest return on investment as measured by education, stability, and health & well-being outcomes within the Steps to Success framework.
How often can my organization apply for grant funding through United Way of Greater Chattanooga?
UWGC follows an annual grant funding cycle. New applications open each January for the following fiscal year: July 1, 2022 – June 30, 2023 
How much money was invested in the most recent Community Investment cycle?
United Way of Greater Chattanooga Announces $4 million in Community Investments for Most Recent Funding Cycle – read more here. 
How does UWGC's fundraising and grantmaking work together?
A core part of United Way's work is fundraising and distributing resources back into the community to create positive change. Read more here. 
If I still have questions, how can I learn more?
Any organization is invited to join our UWGC Community Investment team every Tuesday and Thursday from 11am – 12pm EST. To sign up, go to the Community Investments page and scroll to Office Hours. The link will be waiting for you there! If at any time in between office hours you would like to get in contact with our team, feel free to contact us at impact@uwchatt.org and we can set up a time to answer your specific questions.
To answer questions and gather input from Chattanooga nonprofits, we provided open invitations to engage and learn more about next year's funding cycle that will open in early 2022.  If your team missed these sessions, please view the recorded info session below! Our Community Investment team provides insight into our previous funding cycles, a preview of changes for the upcoming year, and answers to agency's questions.  
Want to learn more about our Community Investments? 
Subscribe to our emails to stay updated on everything Community Investments.
More Ways to Get Involved