ALICE
Asset Limited, Income Constrained, Employed.
"ALICE households are our hardworking neighbors and essential workers who bring immense value to our community. To achieve our vision of opportunity for all, we must explore their day-to-day experiences, the gaps in our community and workplaces, and the value of our essential workers. I believe those who work hard to keep the economy running should be able to support their own family. That is why we must come together and look at the root causes to make a real impact for ALICE households – together."  
– Lesley Scearce, President and CEO of United Way of Greater Chattanooga
Asset Limited, Income Constrained, Employed,

 
households face different levels of financial strain and access to essential resources that make it difficult to afford basic necessities, despite being employed and hard-working. These households face hard choices such as putting food on the table or paying the light bill every single day. 
Prior to the pandemic, 42% of Hamilton County households were only one unexpected setback away from financial instability. In Sequatchie County that number was 46%, and in Marion County it was 45%. By definition, ALICE households did not have funds to navigate the health and economic crisis of COVID without additional help, and we suspect more families have slipped below the ALICE threshold. Additionally, many of the jobs worked by ALICE families are considered essential, yet they disproportionately face issues with childcare, transportation, and rising cost of living.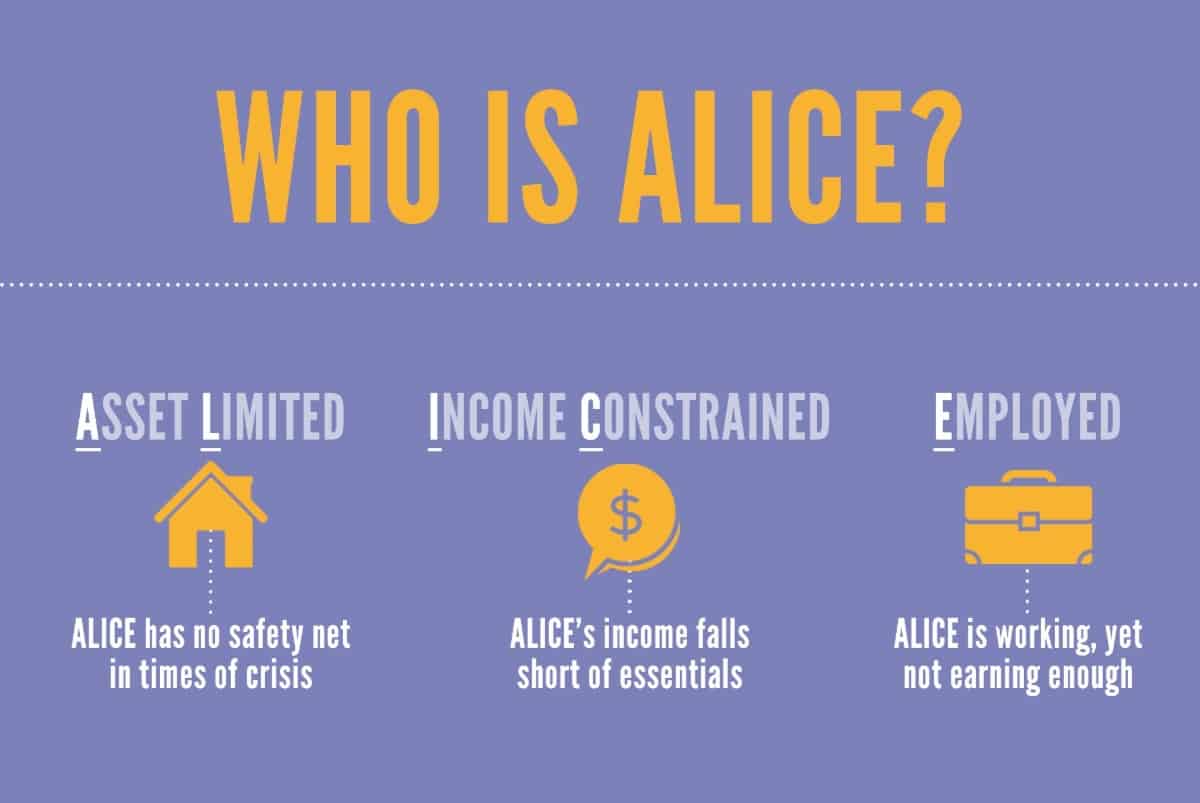 What are the necessities that ALICE households struggle to afford?
With income above the Federal Poverty Level (FPL) but below a basic survival threshold — defined as the ALICE Threshold — ALICE households earn too much to qualify as "poor" and are still unable to make ends meet. They often work as cashiers, nursing assistants, office clerks, servers, laborers, and security guards. These types of jobs are vital to keeping the Chattanooga region's economy running smoothly, but they do not provide adequate wages to cover the basics of housing, childcare, food, transportation, health care, and technology for these ALICE workers and their families. 
How many households in our community meet ALICE standards?
In Hamilton County, 42% of households are ALICE. Not all communities and neighborhoods are the same. For example, in County Commission District 4, only 25% of households are above the ALICE threshold. This means 75% of one town cannot afford basic necessities. Our rural counties also face challenges associated with ALICE: 46% of households in Sequatchie County and 45% in Marion County are living below the ALICE threshold. Learn more about your local county with our interactive mapping tool.
What is included in the household survival budget?
Actual bare-minimum costs of basic necessities (housing, child care, food, transportation, health care, and a basic smartphone plan) in Tennessee, adjusted for different counties and household types. Learn more about the ALICE Essentials Index.
We Understand
Our deep understanding of ALICE households and working families directly impacts our work in the Greater Chattanooga area. By sharing our understanding of ALICE with corporate, nonprofit and government partners, we are able collectively to respond to the needs of working families. Through our 211 service, on a daily basis we connect ALICE households with resources they need to make ends meet. 
Who is ALICE?
There's a good chance you have a friend, acquaintance or neighbor that falls within the ALICE threshold and does not realize it. They are hardworking individuals who, because they are employed, don't often ask for help–they may even feel that they're to blame for their household situation.
ALICE in Tennessee: A Financial Hardship Study
The ALICE Report for Tennessee presents the latest ALICE data available — a point-in-time snapshot of economic conditions across the state in 2018. Read more here.
ALICE In Your Zip Code
Counties are the core geography for ALICE data: They reveal variations often masked by statewide averages, and the data is reported regularly and reliably. Visit the Tennessee Research Center here.